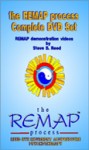 The REMAP.net site has a number of video clips from the REMAP process Demonstration Video series (a group of five demonstrations that are available for REMAP students to purchase and study).
The videos were filmed in 2004 and demonstrate the power of the REMAP process at work.  Each video ranges between 30 and 54 minutes in length and each shows a complete treatment.
The video clips that you will see on the REMAP in Action page at REMAP.net, were taken from this demonstration series.  The video clips are brief (approximately 2 – 9 minutes in length).  However they give you a good sense of the full REMAP process.
Click the following link view them now!  See the full REMAP video clips.
Coming Soon! 
Soon you will be able to see demonstration videos from the full REMAP workshop that were filmed in 2011 in Brussels, Belgium.  They are currently being edited. So, stay tuned for more!
---